It's been a while since I've felt compelled to post but this weekend my kids were amazing and it deserves to be recorded for posterity! They completed in the first ever Spartan Kids Race. If you aren't familiar with Spartan Races, they are basically races with obstacles. That makes it sound so mild. They are not. They are physically demanding and hella hard! The kids version was certainly toned down but that doesn't mean it was easy. They had to scale and jump all sorts of barriers, flip tires, run through water, throw spears (blunt, of course), carry heavy bags of dirt, you get the idea!
Bud ran first and put on a show! We couldn't see all the obstacles but every time he disappeared, he reappeared ahead of everyone else! His most impressive feat was the inverted wall. We were waiting at the wall for a while because the course before that point was hidden from view so we had the opportunity to watch other kids try. The majority couldn't do it. They had helpers there to lift the kids up and over when there were struggling and I was very curious how Bud would react to the obstacle. He came sprinting out of the woods, ran up to the wall, and attacked that thing like he owned it! I had to hold back the tears (and I have to do that now as I write) watching him make easy work out of a difficult obstacle.
If you can't view the video above, try this link:
http://vid1221.photobucket.com/albums/dd462/momnextdoorblog/Blog%20pictures/A0B40D4A-B805-4520-993F-1F44607606CA_zpslu55b4mb.mp4
I knew he was running a 4k but I have no concept of distance, especially when it's in kilometers, so he got done with all the obstacles I saw and figured he was done. They had workers guiding the kids where to go and I heard them ask if he had gone once or twice. He said once and they shepherded him through a shoot and back over to the first obstacle. I was so confused until I realized it meant he had to run the course twice! I could only imagine how he felt when he made the realization too. I asked him afterwards and he said, "Yeah, I wasn't expecting that but I just kept telling myself 'you can do this! Keep going' and I did." I was so thankful that I had my sunglasses on so no one saw me get teary eyed again!
Bud has always been athletic and freakishly strong so I knew he'd kill this race but I wasn't prepared to feel the absolute pride that coursed through me. Every child got a medal and every child got a shirt but seeing him in that "winners circle" was indescribable. He's an amazing kid!
His second time over the inverted wall
Babe is super competitive so I knew she'd want to do the race just because Bud was. She's athletic and strong too but she's much more timid and doesn't love to push her physical limits as much as Bud. We got there early and they had practice obstacles set up. Bud immediately attacked them but Babe was very uncertain and hesitant. She was scared to do them by herself and wanted me to hold her hand to jump down. Eventually she did start doing it on her own but she was still very timid. I was concerned for the race.
Her race was a 2k so she ran the course once. At the starting line she stood in the back and timidly made her way to the front as the line moved forward (they staggered the start so it was kind of chaotic). She jumped over the first barrier and took off with the group. The first few obstacles weren't visible (that's where the tire flipping was) but eventually I saw her making her way towards us. She was flat out running and took the obstacle with ease (run up and down a steep hurdle). Next was the balance beam and she took about 3 minutes to get across because she was so nervous about falling off (it was 2 inches off the ground). At this point I was proud of her but I was also really nervous for her. The next few obstacles took her out of sight again and eventually she popped up over the other side of the river and we cheered and waved to her.
Waving frantically from across the river
She was still running flat out and was waving like crazy to us. Eventually she came back around and it was her turn to do the inverted wall. Her wave was very crowded and it was a younger group so everyone was going slow and there were often delays at the obstacles. She had to wait her turn to climb and she was too short to jump and grab the top but her brains took over and she figured out how to use the middle support beam to climb and reach it. One of the helpers came over at that point and I was a little disappointed because I think she could have done it entirely on her own. But in any event, she cleared it and sprinted to the next one.
She had to carry a sack of dirt around a track. I was kind of far from her at this point but could still see her. As usual, it was chaotic and all the helpers were assisting other children. I saw her trying to pick up the sacks but they were too heavy. I lost sight of her in the mob, until she finally emerged from the crowd with a sack slung over her shoulder. She staggered with each step. Her legs were wobbly as she tried to carry the sack that was probably half her weight. The sack didn't have a good handle so it kept slipping and she had to readjust but she kept it on her shoulder and just kept moving. Slowly, methodicall, shakily, she made her way around the course. All around her bigger, older kids were dropping their bags and leaving them to continue around the track without their sack. But there was my girl, struggling but sticking with it. Step by step she kept going. She got to the obstacle, put her bag to the side like everyone else, hopped over the barrier, and went back to get her bag. Most of the kids that hadn't dropped their sack earlier just left it at the obstacle. Not my girl. She picked her sack back up, slung it over her shoulder and finished off the track still staggering under it's weight. Her fortitude and perseverance was awe-inspiring! She was AMAZING! I had never been more proud of her! She never gave up, didn't complain, and just got the job done. Her spirit was/is amazing!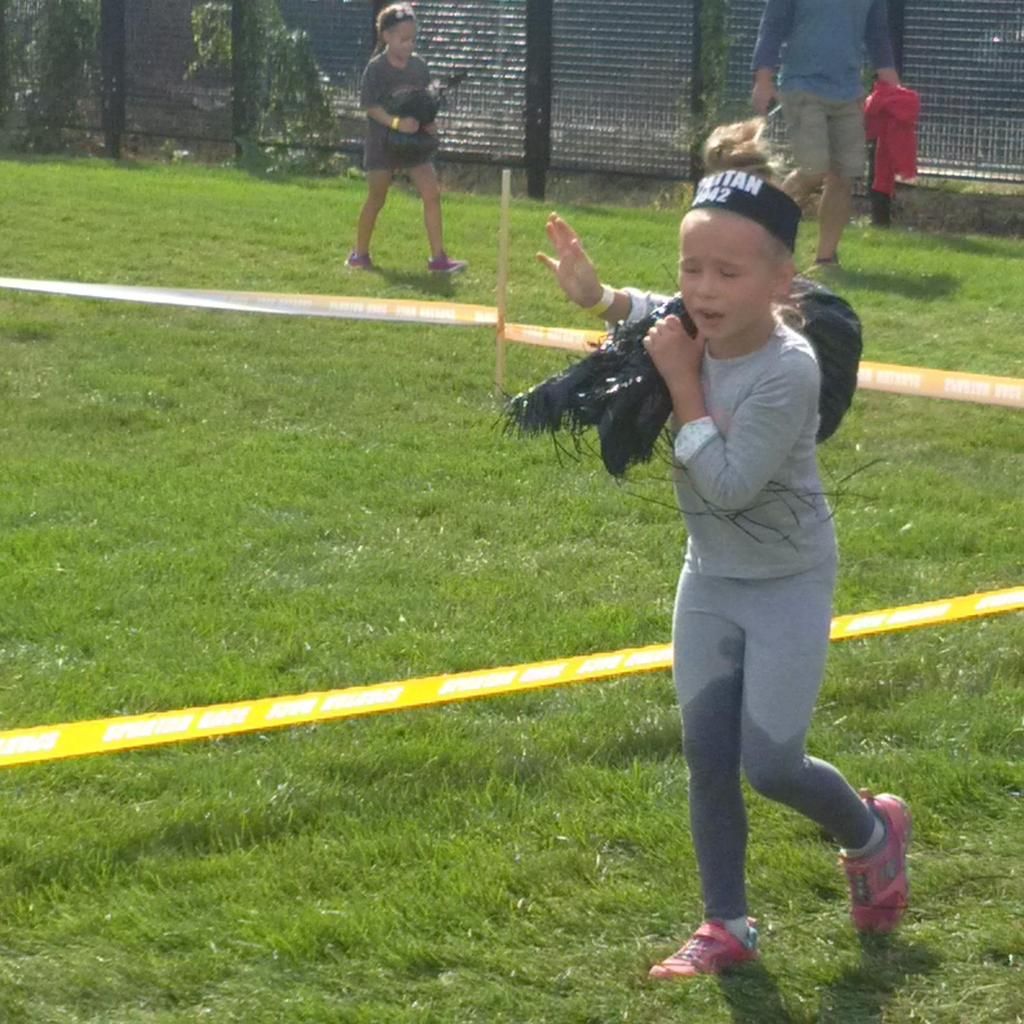 They both loved the experience and are ready to do it again next year! Bud was disappointed that there wasn't any mud pits involved but he felt appeased by the water crossings.
Here's some more pics of the event: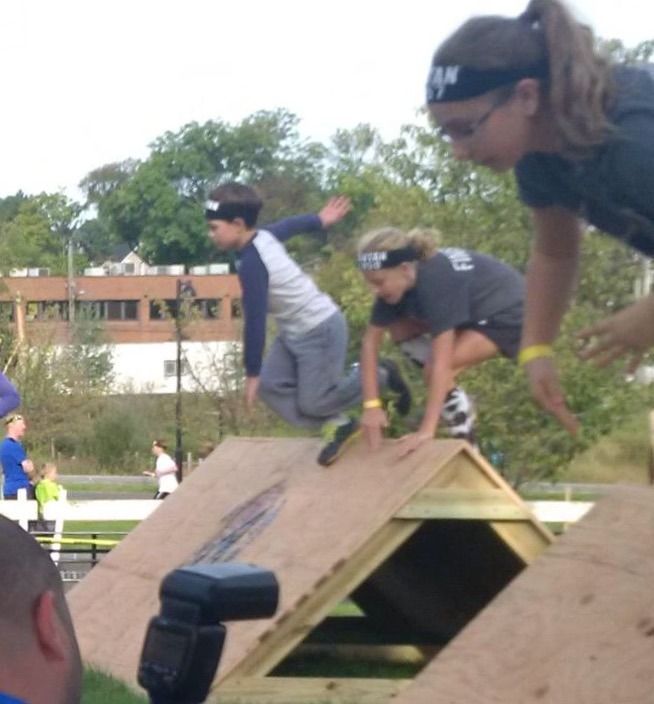 On the practice course. She finally got the "hang" of it!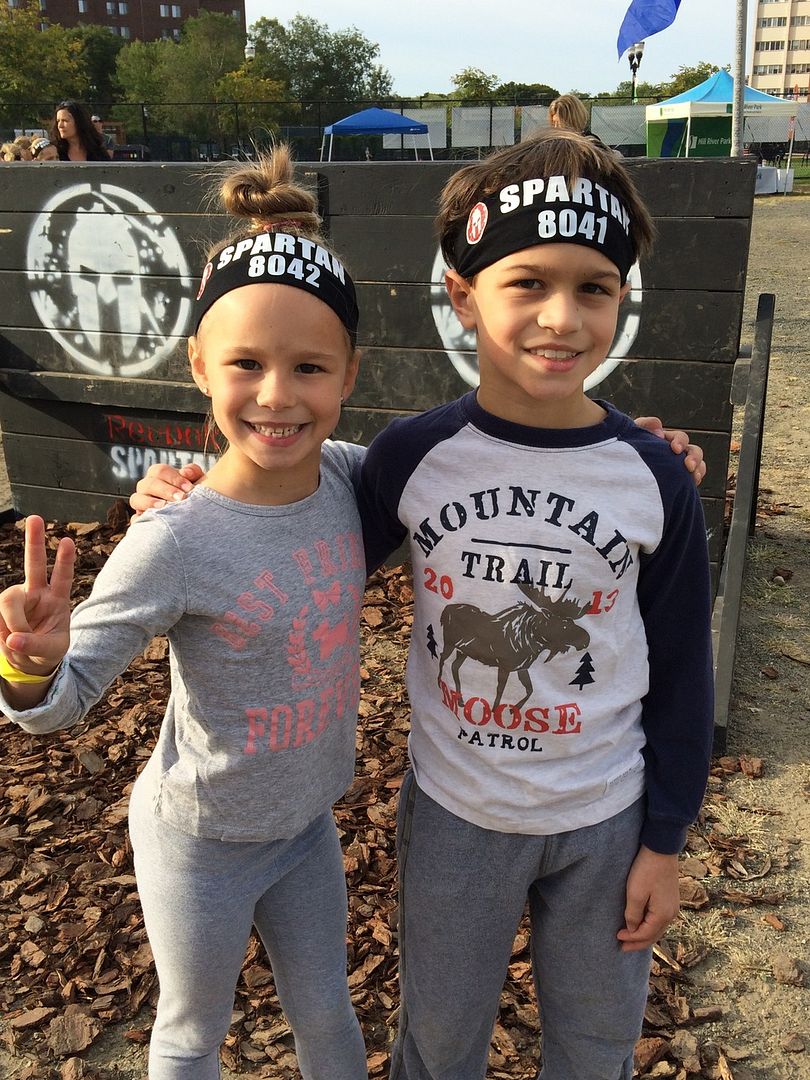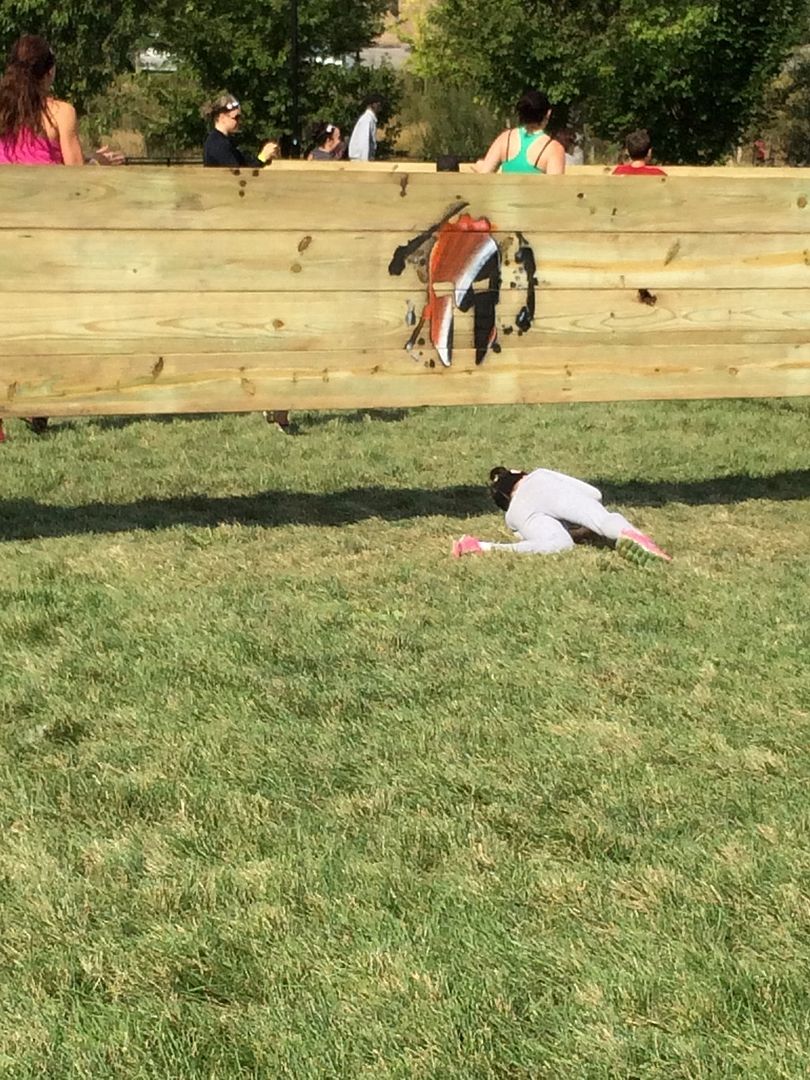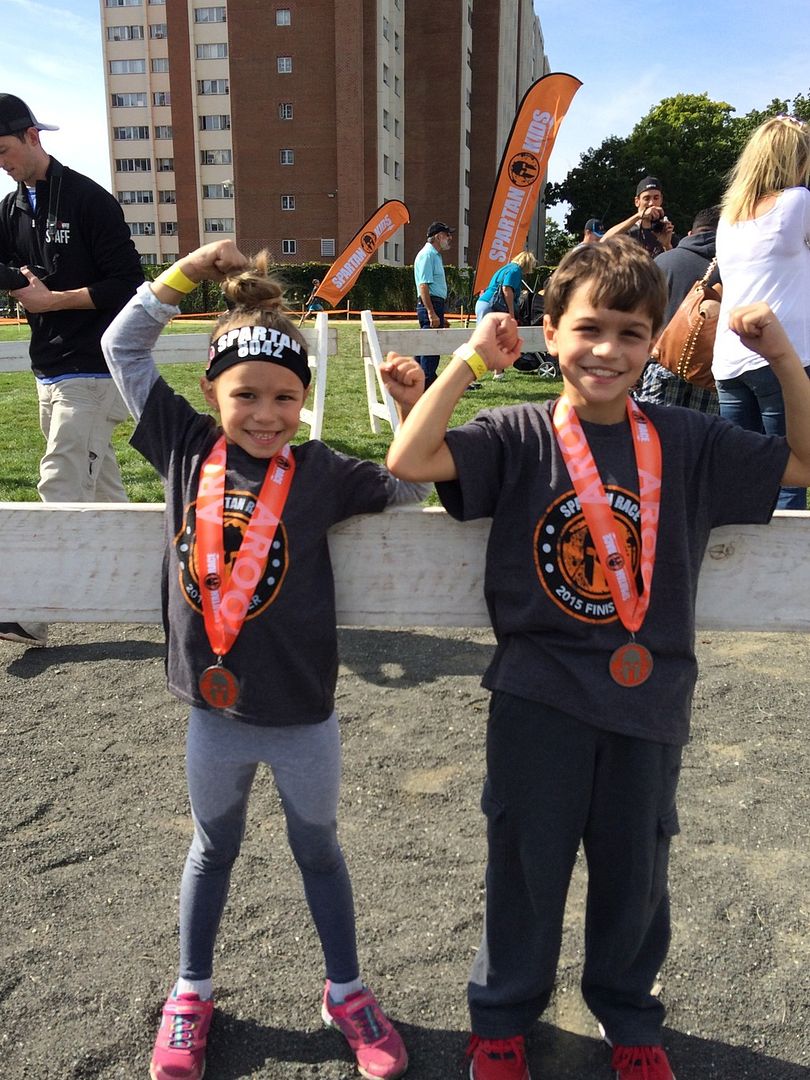 I knew they'd both do well but they both KILLED it! I've never been more proud of them!
They slept like babies that night but they did so with their medals next to their beds and their bandannas on their heads. They are Spartans! AROO!!!
Lily